my mum went on a shopping spree awhile back and came back with 2 pairs of shoes for me and a new bag. something something. i think she should go on shopping sprees more often.

something something. this pair of shoes is damn light. haha. helped me burn some fellow today during relay heats. HAHAHA.
mk burns. that's new.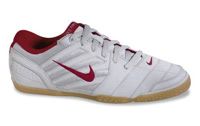 and my new street soccer shoes.
dom says its the ashok one. hahaha. can you imagine me dribbling up and down, left and right on the court. possessed by the ashoks.
and when i miss, "nehmind nehmind."
ok. i can't find the pic of my bag. hahaha. its black, made of plastic and its huge. can throw lots of things in it.
fine. i'm kidding.
haha. no i'm mingkiat. HURRR.
i finished my chinese essay today and i think its the worst chinese crap i've ever excreted onto a piece of paper.
i'm some grumpy old man who's a postman. i have to carry a heavy bag full of letters and when i came to my first house, the stupid building had no lift so i was damn pissed. i saw that the unit i wanted to go to had this hot girl standing at the balcony so i asked her to come down. she took a long time, i pmsed then i realised that she was lame. as in really lame. she had crutches. so i was like, guilty for making her come down.
wah. that's ultimate bullshit man.
no, i'm not as lucky as postman pat. i don have my own mini van and i'm far more grumpy than he is.
so there we go, i need to sleep now. before i hit anyone with my mailbag.