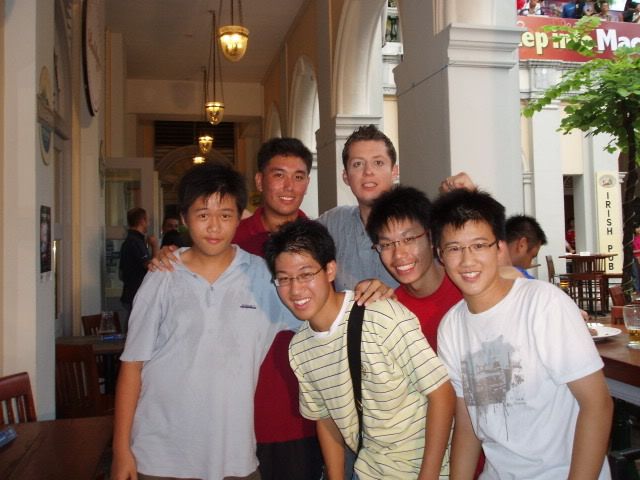 the only decent thing we got out of going to chijmes. a photo with mr andy penders. other than that, we din have a decent view of the screen the whole time around and man utd got raped 3-0 by chelsea. went to kiliney kopitiam for dinner. i think the stupid waitress spat on my horfun or maybe they stepped on our prawn paste chicken because i had to run to the toilet 3 times the entire night.
went to church today. i felt service was good. 'in christ alone' is such a touching song. and the message was clear. learned quite a lot. anyways, after that, we went to do some form of survey around sengkang. was suppose to go to the street soccer court opposite my house to do survey with the people playing there, but it was under construction. went around sengkang trying to look for people. in the end, we had to do our survey at rivervale plaza.
went for soccer after that. it was quite a good game.
ok. i'm tired of typing. never try blogging and doing gp commentary at the same time.
IN CHRIST ALONE
in Christ alone,
Will i glory
Though i could pride myself in battles won
For i've been blessed beyond measure
and by His strength alone i overcome
oh, i could stop and count successes
like diamonds in my hands
by those trophies could not equal
to the grace
by which i stand
in Christ alone
i place my trust
and find my glory in the power of the cross
in every victory,
let it be said of me
my source of strength
my source of hope
is Christ alone
In Christ alone,
will i glory
for only by His grace i am redeemed
and only His tender mercy
could reach beyond my weakness to my need
and now, i seek no greater honour
than jus to know Him more
and to count my gains and losses,
to the glory my Lord
in Christ alone,
i place my trust
and find my glory in the power of the cross
in every victory,
let it be said of me
my source of strength,
my source of hope,
is Christ alone